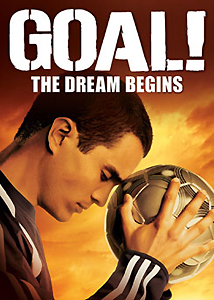 If Hollywood has at least one sports film production, which leaves young fans of that sport open-mouthed and gets them dreaming, then for soccer this movie would be Goal: The Dream Begins (2005).
The movie depicts the path of young Santiago Munez (Kuno Becker), an amateur soccer player, from the poor parts of Los Angeles to England, where – with the help of soccer scout Glen Foy (Stephen Dillane) – he obtains a try-out for the youth academy of Premier League team Newcastle United. Eventually, Santi breaks through the main squad of the Magpies.
Munez's road to glory is by no means easy, as he has to leave his poor family behind. In addition, he does not have the blessing of his father Hernan (Tony Plana), who thinks that it is irresponsible and selfish of his son to chase a foolish dream instead of supporting his family. However, his grandmother buys him a ONE-WAY ticket, putting additional pressure on the talented young man.
All alone in a land unknown, Santiago does not have many people to support him other than Glen, who accepts him like a son. Eventually, he falls in love with Roz Harmison (Anna Friel), an assistant to the team's nurse. With the help of these two people and fellow teammate Gavin Harris (Alessandro Nivola), Santi takes on all challenges that come his way, such as discrimination and nostalgia.
Although a fictional production, one reason why Goal is so appealing is because it includes a lot of realistic elements. With the cameo appearances of Alan Shearer, Nolberto Solano, Kieron Dyer, and other of the then-stars ("legend" would be a more appropriate term for the first one) of Newcastle United and the flawless factual accuracy, through Munez the directors present each yound soccer fan with an idol that proves that sky is the limit.
Also, for the soccer-hungry older fans, the directors insert Munez into the action of Newcastle's matches against Liverpool and Fulham, where he played against great players like Steven Gerrard, Milan Baros, Danny Murphy, etc. The scenes from these matches are as accurate as dramatic.
In fact, Goal played an immense role in my childhood and helped me develop the strong attachment to Newcastle United, as if I myself was born on Tyneside (the area where the club is based).
Interested? Well, you are in luck! Thanks to the magic of the Internet, not can I only present you with a trailer about this modern classic, but I can give you a link to the entire movie:
Enjoy! And if you really do, check out Goal II: Lving the Dream and Goal 3: Taking on the World, but the third one may be a disappointment.
Comments are welcome!